Q. I am attending a wedding abroad later in the summer and although this means guaranteed sunshine for the Bride and Groom, I am very fair skinned and conscious of sun exposure as I suffer from prickly heat. Is there anything I can use to stop the prickly heat so that I won't be uncomfortable on the day and be immortalised as swollen and spotty on the photographs?
A. Congratulations to the happy couple and fear not there are steps you can take to quell your anxiety regarding the effects of sun exposure and resulting prickly heat.
Prickly heat or Miliaria is a red and itchy rash on the skin  that causes a stinging or prickly feeling. The rash occurs when sweat glands become blocked generally as a result of excessive sweating. This is because bacteria and dead skin cells can collect in the swear glands , trapping the sweat which subsequently bursts out and irritates the skin.
With this in mind a great idea before you go on holiday is to have a full body exfoliation. This treatment eliminates dead surface skin cells and refines skins texture, leaving a fresh glowing skin, ready for your time in the sun.
Whilst you are away a great range to try is the Clarins Suncare Range, which Clarins boast is "the smartest choice you'll make all summer!"
Clarins suncare products offer advance multi cellular protection. Clarins phyto-sunactyl 2 provides multi cellular protection to prevent aging and preserve the skins natural health and beauty. The complexion contains active ingredients of bobab tree, olive tree, pea, senna tree leaves and plane bark.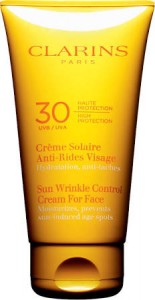 Available in three protection factors (very high, high and moderate) depending on the intensity of the sun you will be exposed to. UVA/UVB factors range from 50+ for intense sunshine to 15 for moderate sunshine. The range includes products specifically designed for the face, body, sun sensitivity skins, outdoor sports and children, prices start from £16.
It is the outdoor sports product which has proved a massive hit with prickly heat suffers for years. The UVA/UVB 15 spray is oil free so it doesn't clog the pores and as it designed for excursion in heat it allows the skin to breathe through it and so reduces the effects of prickly heat.
Other tips to help fight prickly heat are to stay out of the heat for as long as possible, so if there are breaks in the day, between the service and the meal etc. then seek the shade. Also if you can, as much as possible whilst you are away wear loose cotton clothing which tends to let the skin breath more than synthetic fabrics.
It is also important to follow your sun exposure with a good aftersun to repair and renew the skin during the night whist the skin is in its most active natural repair cycle.  So after a hard day by the pool, Clarins aftersun products contain five active ingredients which help to treat and repair skin exposed to the damaging effects of the sun. Sunflower and griffonia seeds help to reduce the appearance of red skin and soothe, safflower seed to stimulate and prolong tanning, mimosa tenviflora protects against the harmful effects of free radicals, stimulate cell renewal and repair  and watermelon extract instantly hydrates.
I hope this helps and I hope you have a fabulous holiday and enjoy your friend's wedding.