Q. I am finding that as I get older my skin is becoming dryer and dryer. What can I do to get some moisture back into my skin?
A. It is a naturally occurring phenomenon that as we age our skin becomes rougher, slacker and thinner and cellular renewal slows down. Many factors affect the way in which our skin ages from lifestyle, diet and other personal habits such as drinking and smoking, to good old fashion genetics. Dry skin in later life is common due to a loss of oil glands as we age. Other factors which may cause dryness are not drinking enough water, prolonged exposure to the sun, being in dry air and over use of soaps, antiperspirant and hot baths. With all these contributing factors stacked against us it is vital that we look after our skin in order to keep it feeling soft, supple and comfortable.
So possible causes for the dryness identified, let's address what can be done to restore the skins equilibrium.
Stage One – Exfoliation is key in the fight against dry skin. Exfoliating the skin regularly sloughs away the dead surface layer of the skin, leaving it bright and revitalised. Clarins offer the beautifully scented Tonic Body Polisher which would be great for your skin. Designed to exfoliate the skin with natural sea salt for ultra-smooth soft and comfortable skin, whilst essential oils of mint, rosemary and geranium promote a feeling of wellbeing and revitalises the senses.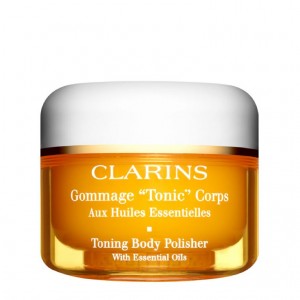 As a result of exfoliating, the freshly exposed healthy skin is able to better absorb "stage two" in the attack on dryness; daily moisturiser.
Daily moisturising with a targeted product for dry skin and aging will also help restore smooth, even and youthful looking skin, and applying to regularly exfoliated skin will ensure that the product is fully absorbed and not just sitting on the surface of the skin. Clarins Renew Plus Body Serum is an age defying concentrate which combines the deeply renewing benefits of pro-retinol (vitamin A) and the hydrating action of water lily extract for skin that looks radiant, fresh and more youthful. Used twice a day, wrinkled skin is progressively smoothed, slacked areas are diminished and skin is continuously moisturised to ensure optimal hydration.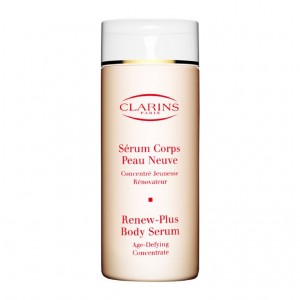 I hope this will help you turn back the clock and restore the comfort of your skin. Should you need any further advice please feel free to call in at the salon and one of our team will be find the best products and treatments for your skin type.