Q. I have booked the holiday of a lifetime for this summer. I am desparate to look my best round the pool, but I am quite concious of the visible cellulite on the backs of my legs. Is there anything I can do to reduce it's appreance before at the begining of September?
A. Firstly, lets put into perspective that 90% of women suffer with cellulite , with at least 56% of them being concerned about it's appearence, so you are not alone.
There are a number of things you could try to help reduce the appearence of the problem cellulite and improve the condition of the skin. Dry body brushing and regular exfoliation will boost circulation and lympatic drainage as well as skin  texture and condition. In additon to this targeted cellulite treatments are a great weapon in the fight against the dreaded dimples and both our in salon skincare houses, Clarins and Guinot have launched brand new creams in time to have us all beach ready this summer.
Clarins new Body Lift Cellulite Control £36 is an easily absorbed cream-gel which used morning and/or evening in-conjunction with the "Clarins Self Massage Body Contouring Method" makes cellulite 78% less visible after just four weeks, plus 85% of women tested immediatly noticed more hydrated and comfortable skin. This product is a targeted solution to reduce and banish stubborn cellulite, preventing it's reappearence and the specialised massage technique combines manual pressure and muscular contractionto trap adipose tissue and in doing so helps drain away excess fluid and fat.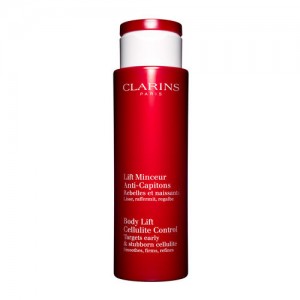 Guinot 's new wonder product  Minceur Chrono Logic £43.25 works on targeted slimming in just 15 days. A combination of the light serum and the Guinot Cellulite Massager used morning and evening has seen clients loose 1cm from the waistline, 1.1cm from the thigh area and 1.4cm from the hips, with 85.7% of women tested commenting on a noticeable slimmer figure and reduction in the appearance of cellulite.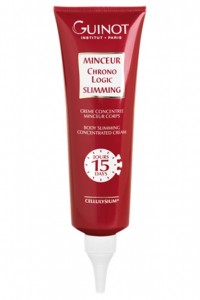 Unfortunatley as wonderful as both these creams are, they do require us the user to put in some of the work ourselves. Using the treatments alongside a healthy balanced diet and drinking around 2 litres of water a day will help the body process  and eliminate the toxins which help to create cellulite and boost your way to quick and amazing results.
*All statistics provided by Clarins Uk Ltd and Guinot – Mary Cohr Skincare