Q. I am taking my family abroad this summer on holiday and still have creams left over from our summer holiday last year. Is it necessary to buy new or is it just a myth that I have to buy new every time?
A. The importance of sun cream, especially with prolonged sun exposure such as summer holidays cannot be underestimated, but there are still an alarming number of people who brave the UV rays without applying sunscreen.
As we all know over exposure to the sun causes sunburn, premature aging, wrinkling, pigmentation and most seriously skin cancers. So making sure you have a good quality sunscreen in an appropriate factor is vital to maintain healthy skin and ensure a relaxing holiday without that red and sore look.
Whether holidaying at home or abroad you will need to apply sun cream. Choosing the appropriate factor will depend on how your skin reacts to the sun, the strength of the sun exposure and the amount of time spent in it. Some people are more susceptible to the sun and children in particular should wear a high protection factor of 30 and above. Others who should show caution in the sun are those with fair skin, red & blonde hair and those with blue & green eyes. Pregnant ladies, and those experiencing hormonal changes, may also notice a difference in their skins sun resistance during this time and should be especially aware of the risk of sun pigmentation. It is also worth noting that some medications can affect the skins photosensitivity, your doctor will be able to advise you if this is the case.
Expired sun cream has literally fallen apart so the formulation no longer works as a sun protection, so it is no myth that you need to buy new each year. In addition you may experience changes in colour, consistency and smell of the product. All cosmetics have an indicator symbol on them to advise how long they stay stable once they have been opened. Using creams after this time can cause skin irritations and reactions, therefore using out of date sunscreen could be more damaging to the skin that using nothing at all.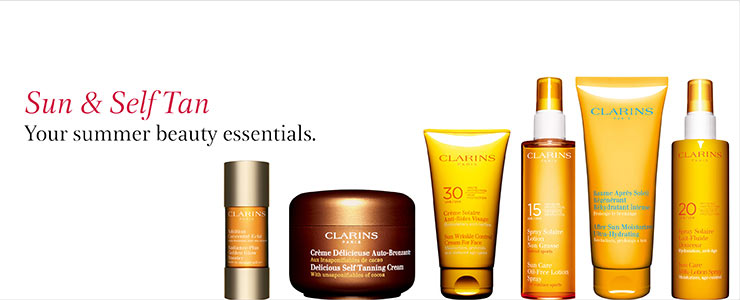 Both Clarins and Guinot offer sun care ranges with advance multi cellular protection, which in addition to providing sun protection also prevent sun aging and preserve the skin natural health and beauty. With prices in both ranges starting from £17 protecting your family's skin on holiday this year will be the easiest choice you make all summer.