Q. My teenage daughter is starting to wear make-up and I am worried that she is not removing it properly, as she has started to get spots along her jawline and across her forehead. She is then wearing more make up to cover the spots, what do you recommend?
A.The power of make-up to transform the way we look and the way we feel about ourselves is a magical thing. It is with great nostalgia that I look back on my first experiments with make-up. I remember locking myself away in my room, applying my new make-up and emerging again from that same room as if a phoenix reborn from the flames of my old self, ready to be unleashed on a new and exciting world. I also remember the crushing defeat of my father's laughter and the subsequent "what on earth do you look like?" rhetorical question ringing around my ears as I disappeared back to my room to take it all off again. Thankfully the next time I tried to embark on a journey of reinvention I had my mother at hand and a much smaller trowel. That day along with make-up tips that made me look less like the opening act at The Birdcage, my mother gave me some great advice, always make sure to cleanse tone and moisturise so that you start every day a fresh.
Cleansing is at the heart of any skincare routine. It removes dirt, sweat, make-up and any other impurities that could have built up throughout the day, keeping your skin healthy and ensuring pores don't become blocked. Failing to cleanse thoroughly could lead to breakouts and skin that's generally unhealthy and if you're removing heavy make-up you need to be doubly certain that you're cleaning your skin properly.
Toning removes any final traces of make-up, dirt, oil or impurities and tightens facial pores, protecting skin from toxins and bacteria.
A recent experiment by journalist Anna Pursglove saw her test the effects of applying make-up every day but not removing it for a whole month. Anna was prompted to explore this as the result of a new survey that found that a third of women questioned confessed to sleeping with their make-up on at least twice a week, but what effect, if any does that have on the skin? Have we all been hoodwinked by the subtle scaremongering of beauty companies in to cleansing, toning and moisturising or would our skin be ok if we simply let it do its own thing?
Anna saw a 3D cosmetic imaging specialist before her experiment began and then again after the month long trial. The results where alarming, Anna skin had aged by a decade as a result of not cleansing, toning and moisturising. Her skin had become dry, uncomfortable, red, cracked and blotchy, and her eyelashes had become brittle, sore and in places had fallen out completely.
And so it would appear that mother really does know best!
You mentioned that your daughter has already started to see some of the side effects associated with inadequate cleansing, resulting in the congestion you described around her jaw and forehead. As this has only started to happen since she started to wear make-up it is a pretty fair assumption that this is the cause as opposed to any underlying skin condition, such as acne, and so a proper cleansing routine should clear the problem.
Both Clarins and Guinot our in salon skin care houses have a wide range of cleansing and toning products to suits every skin type and all lifestyles, and Clarins has a specific skincare range especially designed for teenagers to promote a good skincare routine from an early age, with products starting from only £12.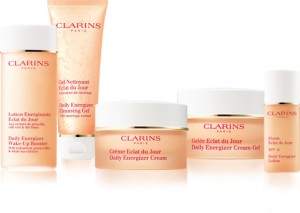 It may well be a good idea to bring her in for a mini facial so that one of our therapists can have a look at her skin and give her some advice on what to do to keep her skin looking fresh and clean. Although we know that mother knows best, we don't always want to hear or believe it in our teenage years and so will be happy to drum the message home on your behalf.
I hope you have some success and a word to the wise, keep your cosmetics close at hand; it's only a matter of time before the products find their way into her make-up bag!