Personally my favourite tan I have ever used! And I've tried many!!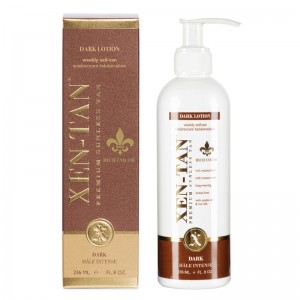 This product is so easy to apply, this tan is perfect for a night out; a wedding; before going on holiday or even just as a day to day tan. I would recommend you to apply this product using a mitt as oppose to gloves and after a good exfoliation. Not only does it smell gorgeous when being applied, it also takes to your skin tone, so the colour is individually catered to you! It usually lasts between 4-7 days after the application and looks extremely natural when fading off the skin. This product retails at £28.99 and you will get about 5 full body applications out of the bottle. I can assure you you will not be disappointed by this tan! This is why I have chosen Xen tan dark lotion as my product of the month. If you don't think you are able to this tan treatment yourself no worries, book yourself into the salon and we will do it perfectly for you.
You could even upgrade your tan application to a full body exfoliation and tan application. Not only does this treatment feel amazing on the skin, you will also have the confidence of knowing the tan will last its full potential length of time and finished result will look amazing.
Debbie Friedrich – Head Receptionist / Therapist