Q. I know you have recently opened a Clinic offering laser hair removal. I have had IPL hair removal in the past but the salon where I was having the treatment closed down and I didn't get chance to finish the course. I still have hair growth in the area they were treating after 4 sessions. Does laser work for everyone or do you think this is because I didn't get chance to finish the course? I would really like all the hair removed is this something you can do?
A. Laser hair removal is a fantastic answer to the issue of unwanted and excess hair on the face and body, and when done correctly in a safe and professional environment by a qualified practitioner, the results are amazing.
The laser we have in the FAB Clinic is a Syneron Candela Elos Plus platform which uses a diode laser and radio frequency to safely and effectively cause long term/permanent hair reduction.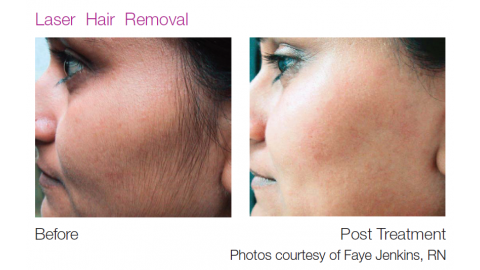 The reason you may not have seen the results you were expecting with your previous laser course is due to the type of laser begin used to perform the treatment. Intense Pulse Light (IPL) lasers are designed to work on skin rejuvenation as it is very well absorbed by haemoglobin and pigment. This makes it perfect for treating vascular and pigmented lesions but any hair reduction is merely a side effect of the lasers primary goal. If the hair on the area being treated is dark on a light skin then the IPL will pick up on its pigment, but it may not kill the blood supply to the root and the hair will come back. If you are a skin of colour then the use of IPL may be quite painful as the laser will be absorbed by the pigment in the skin and this can result in burns and hyperpigmentation and have no effect on the hair in the treatment area at all. This will go some way to explaining why your IPL treatment was not effective. This doesn't mean that you are not responsive to laser hair removal, just that ILP is not the right kind of laser to treat your concern.
The only function of the diode laser which we use in the FAB Clinic is hair removal and as such it is able to treat dark and light hairs, and because it is used in-conjunction with radio frequency to heat, it can also be used safely on all skin types without risk of damage to the skin.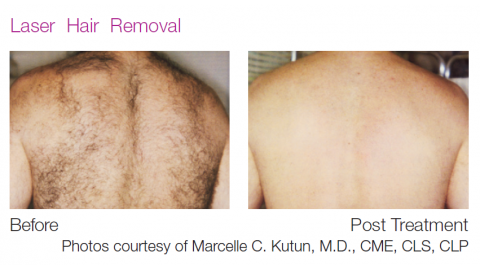 Consultations for treatment are FREE with our fully qualified aestheticians who can guide you through the treatment process, and as treatment protocol is individual to each client, they will be able to manage your personal treatment expectations to create a treatment programme which targets your concerns. Typically 6-8 treatments are necessary to cause permanent hair removal, but lighter hairs can take up to 10 treatments. You will see the most dramatic reduction in hair growth and density in the first three treatments which are generally spaced between 4-6 weeks apart with subsequent treatments then being made when any hair growth reappears.
If you would like to make an appointment for a free consultation and test patch, please call the clinic on 0161 627 1114. We would love to help you achieve your treatment goals, and make this unwanted hair a thing of the past.